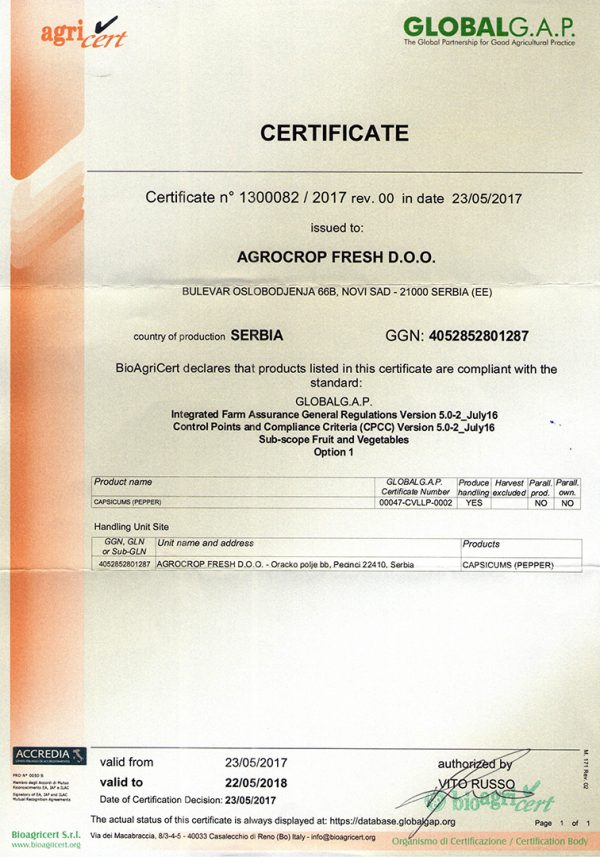 Agrocrop Fresh is involved in the production, sales and distribution of peppers.
we have been present in the domestic market as a farmstead business since 1975. Open field production was converted to covered production in 1997.
– over the years, while cultivating our family tradition, meeting market demands and personal challenges, we have increased production capacity and grown into Agrocrop Fresh with an enviable 15 hectares of modern glass and plastic greenhouses, and 10 hectares under protective nets.
With modernization, technological improvements and the introduction of biological protection of all production capacity, our professional team along with experts from the EU have been able to reach production goals of 2700 tons of peppers annually. This, alone, has enabled us to enter the European market providing consumers with quality, quantity and continuity.
In our efforts to provide the best in the bio-pepper production and maintain quality, we have installed the latest in refrigeration with a capacity of 400 tons and constructed a packing center covering 2500m2.
Our mission is to produce top-quality bio-peppers, and in order to ensure customer loyalty, we adhere to the strictest European standards in the cultivation and protection of our product, This has been proven by the award of GLOBAL GAP CERTIFICATE No# 4052852801287 by the Italian certification body Bioagricert.